Sao Paulo, Brazil, 13 March, 2021. Paint & Pintura magazine publishes Fernando Itaziki, area sales manager for Inkmaker Group's congratulatory message in latest issue.
"It is with great pleasure that we send our heartfelt congratulations to all the team at Agnelo Editora on this, your 25 years anniversary.

Your contribution especially in the paints, coatings, printing, varnishes, adhesives and chemicals industries has been and continues to be immeasurable.

Since the early days of its formation, in the late sixties, Agnelo Editora has carved a name for itself as one of Latin America's foremost publishers. Producing renowned publications - such as; LOJAS Papelaria, Show Do Pintor, Graphprint and ConstruChemical, as well as its forums and awards - have, each in their own field, contributed significantly to establishing an authoritative voice to Agnelo Editora that many have come accustomed to today.

For Inkmaker Group however, one in particular - Paint & Pintura magazine - stood out above the rest. Your market intelligence provided us with industry-leading information and analysis to which our team in Latin America continue to rely on. Published monthly in Portuguese, Spanish and English, the technical articles, international news, interviews with leading-industry players and market statics by excellent journalists and editors, have defined you as an international leader.

Keep up the great work... here's to the next 25 years!"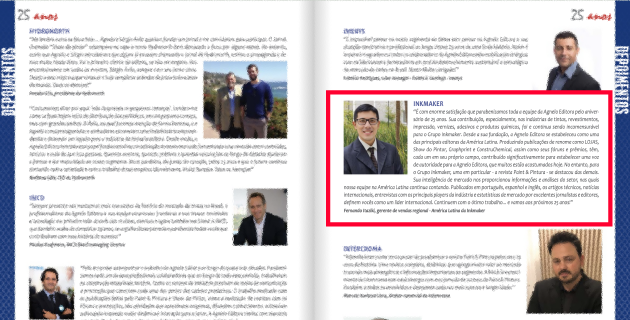 PORTUGUES:
Sao Paulo, Brasil, 13 de marco de 2021.A revista Paint & Pintura publica Fernando Itaziki, gerente regional de vendas da mensagem de parabens do Grupo Inkmaker na ultima edicao.
"E com enorme satisfacao que parabenizamos toda a equipe da Agnelo Editora pelo aniversario de 25 anos.

Sua contribuicao, especialmente nas industrias de tintas, revestimentos, impressao, vernizes, adesivos e produtos quimicos, foi e continua sendo incomensuravel para o Grupo Inkmaker.

Desde a sua fundacao, a Agnelo Editora se estabeleceu como uma das principais editoras da America Latina. Produzindo publicacoes de renome como LOJAS, Show do Pintor, Graphprint e ConstruChemical, assim como seus foruns e premios, tem, cada um em seu proprio campo, contribuido significativamente para estabelecer uma voz de autoridade para a Agnelo Editora, que muitos estao acostumados hoje.

No entanto, para o Grupo Inkmaker, uma em particular - a revista Paint & Pintura - se destacou das demais. Sua inteligencia de mercado nos proporcionou informacoes e analises do setor, nas quais nossa equipe na America Latina continua contando. Publicados em portugues, espanhol e ingles, os artigos tecnicos, noticias internacionais, entrevistas com os principais players da industria e estatisticas de mercado por excelentes jornalistas e editores, definem voces como um lider internacional.

Continuem com o otimo trabalho... e vamos aos proximos 25 anos!"


Silvio Cimenti / Inkmaker Group Communications